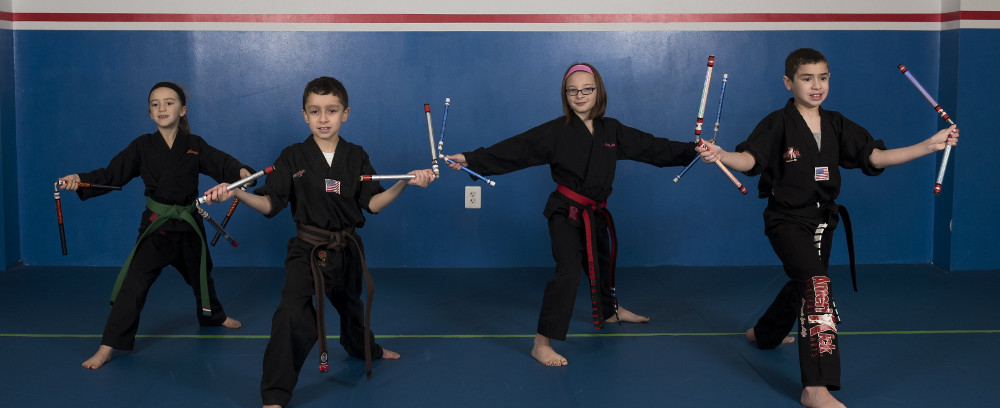 If your children are excited about acrobatic stunts and breaking boards like their favorite action hero, then they'll be thrilled with the classes we teach! At AmeriKick Martial Arts in Haddon Heights, your child will enjoy a fun and energetic Martial Arts program that gives kids the confidence, self discipline and leadership skills to handle life head on!  Our children's program is designed to teach self-confidence, focus, discipline and leadership in addition to quality self-defense.  Families residing in the surrounding towns of Haddon Heights, New Jersey who are looking for the top kids karate program in the area are invited to check out Amerikick Haddon Heights.
The Benefits Are Endless!
Gain strength, stamina and coordination
Develop very positive feelings about themselves
Conquer their fears about bullying and being picked on
Learn to channel their aggressive energy
Become street smart
Plus, lose weight and feel great
The AmeriKick System of Martial Arts combines action-packed Kenpo karate, boxing and kickboxing to build your child's strength, coordination and endurance, plus sharpen their reflexes and thinking skills.
What's even better; the AmeriKick Martial Arts system in Haddon Heights, NJ is a practical self defense system that also teaches the traditional philosophies of martial arts like:
Respect
Focus
Teamwork
Self-Control
Memory
Discipline
Balance
Fitness
Coordination
Watch as Your Child's Confidence Skyrockets!
AmeriKick's unique "Character Development Program" teaches common sense as well as self defense. And, since the structure of respect is built into all our Martial Arts programs, your child will develop the ability to LISTEN, LEARN and ACHIEVE the goals they set.
As children expand their knowledge with martial arts, they will also get to practice with weapons such as nunchuks, bo staff, kamas, and swords.  The children are taught to safely use such weapons and they prove to be a valuable tool to improve agility, focus and skill.
As the children advance they also have the opportunity to attend classes dedicated to sparring. (as a beginner, sparring is optional)  Our sparring classes allow the students to safely practice the techniques that they are learning in an engaging and fun environment.
We provide age appropriate and skill based programs:
AmeriKick Tigers (ages 3 to 4)
AmeriKick Dragons (ages 5 to 6)
AmeriKick Juniors (ages 7 to 12)
Getting started is simple!  All you have to do is fill out the contact form to the right and one of our professional staff members will be happy to answer all of your questions.  Look forward to hearing from you soon.